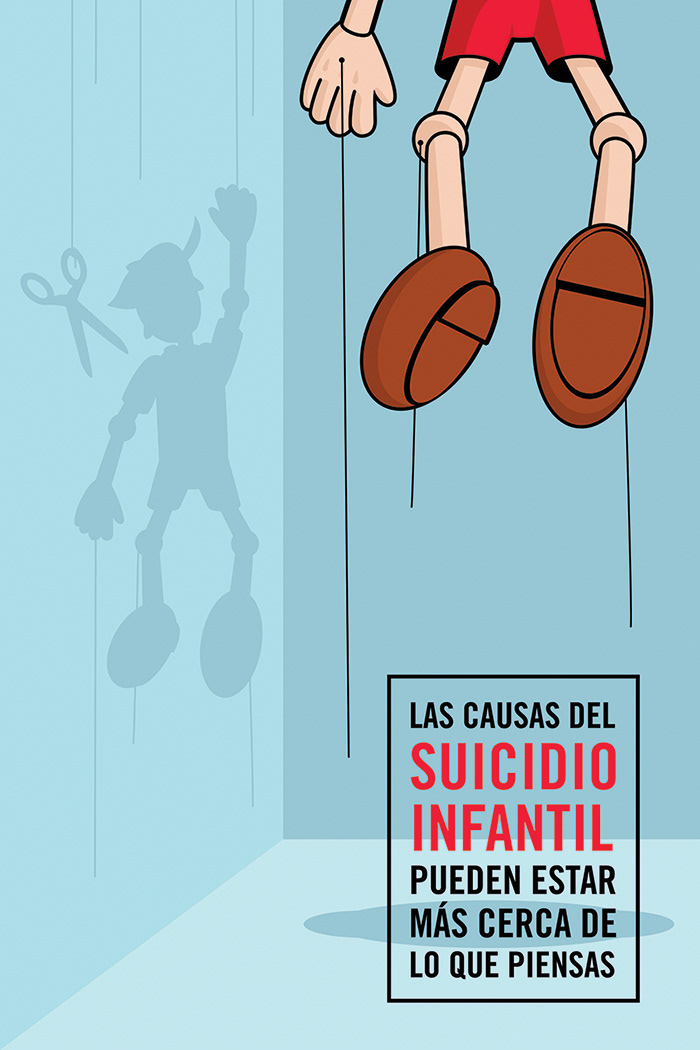 [ENG]
I was invited to contribute with a poster design in an exhibition about child suicide as part of some events about this topic in the Suicide Prevention Week in Puebla city, Mexico.
The child suicide is a serious issue to take attention in our society. There's a lot of causes that we need to take care as parents and as society, so I just want to show an illustration about this in my poster, making a subtle reference of the children's classic character of Pinocchio hanging down from the ceiling next to a scissors, showing their shadows as metaphor of this serious problem, looking to show a simple and direct message on my design without taking hard images. 
[ESP]
Fui invitado a colaborar con un diseño de cartel para una exposición sobre el suicidio infantil como parte de una serie de eventos sobre este tema en la Semana de la Prevención del Suicidio, llevada a cabo en la ciudad de Puebla, Puebla. México.
El suicidio infantil es un grave problema que debe llamar nuestra atención en nuestra sociedad. Hay una gran cantidad de causas que tenemos que cuidar como padres y como sociedad, de modo que quise mostrar ésto en una ilustración sobre éste problema en mi cartel, haciendo una sutil referencia del clásico personaje infantil de Pinocho colgando del techo junto a unas tijeras, mostrando sus sombras como metáfora de este gravísimo problema, buscando tener un diseño simple y directo sin recurrir a imágenes con un tono mas fuerte.