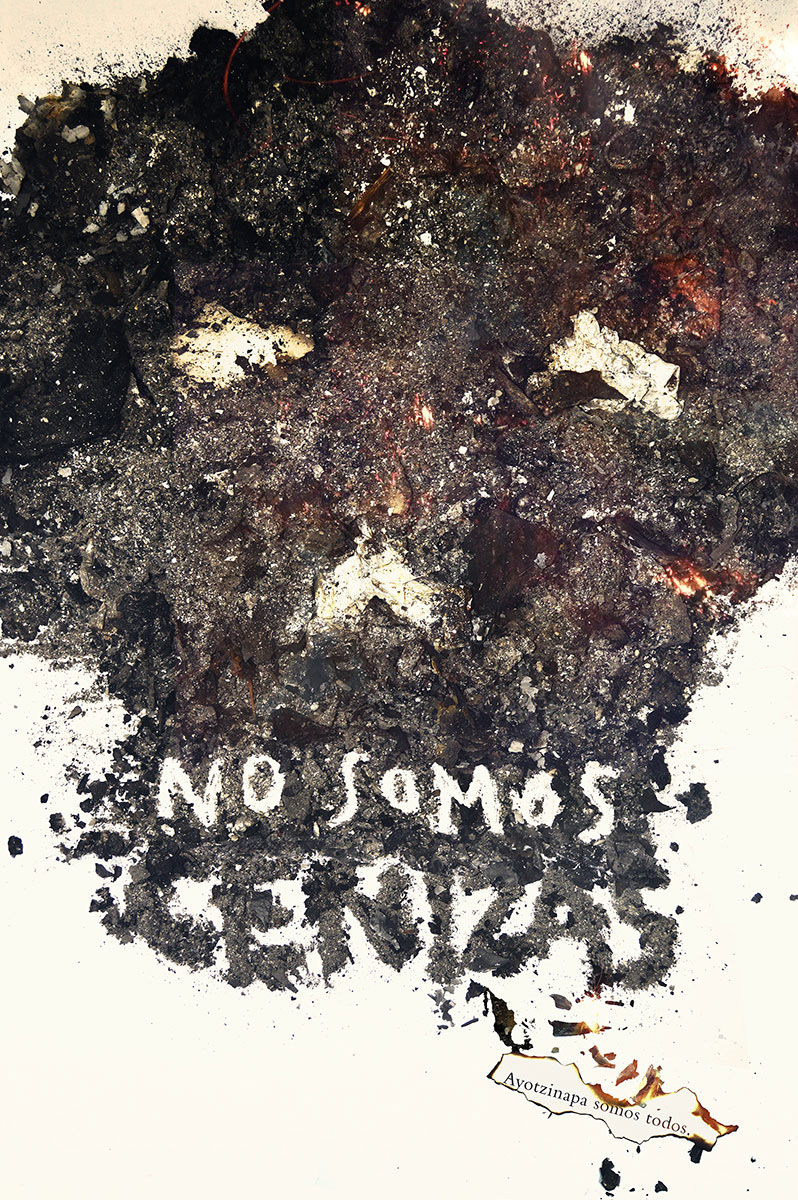 [Click on the image for watching bigger]
[esp]
Cartel diseñado para la convocatoria hecha por el maestro Francisco Toledo, el Instituto de Artes Gráficas de Oaxaca, el Patronato Pro Defensa y Conservación del Patrimonio Natural y Cultural de Oaxaca y el Museo Memoria y Tolerancia, para diseñar carteles bajo el tema lamentable y harto conocido de la desaparición forzada de los estudiantes de la escuela Normal Rural 'Raúl Isidro Burgos'.
El informe oficial por parte del gobierno federal concluye que, según sus investigaciones, los estudiantes fueron acorralados, atrapados, secuestrados y asesinados de formas crueles que terminaron con sus cuerpos incinerados y esparcidos en vertederos de basura. Con muchas dudas y cuestionamientos, el estado dio una conclusión que a nadie deja satisfecho y pocos creen, dado que no hay rastros claros de los cuerpos que ni siquiera investigadores calificados han podido comprobar como verdadero.
De éstas dudas y conclusiones, diseñé éste poster basado en la versión oficial de que los estudiantes fueron hechos cenizas, resultando una ironía que con ello, el estado busca cubrir los hechos con una versión que nadie cree y todavía busca: NO SOMOS CENIZAS es un reclamo para mantener la búsqueda del paradero de los estudiantes de Ayotzinapa. El título fue hecho con cenizas de restos de basura quemada, también formando un cráneo, justo como en la verdad oficial fuese un montón de desperdicios calcinados.
Poster designed for the contest convoked by the painter Francisco Toledo, the Oaxaca Art Graphics Institute, the Pro Defensa and Natural and Cultural Heritage Conservation of Oaxaca Patronage and the Memory and Tolerance Museum, on the sad and known issue of the forced dissapeared of the students from the Rural School 'Raúl Isidro Burgos'.
The Mexico's federal government official inform about the Ayotzinapa's case concludes that, according their investigations, the students were trapped, catched, kidnaped and killed cruelty and then cremate and scattered in waste landfills. There's a lot of doubts and questions about this conclusions, the government gives explanations that nobody believes, because there's no clues of bodies that some qualified investigators can confirm as true evidence.
From those conclusions and doubts, I designed this poster based on the official version were converted in ashes version, the irony of the state of covering the facts and true with something that nobody believes and still find: NO SOMOS CENIZAS (We are not ashes) is a claim for keep looking for the Ayotzinapa's students and where they are. The headline was made of ashes from burned things, is also a shape of a skull, just like if the official 'true' is a bunch of burned waste.
[Some making off process samples]