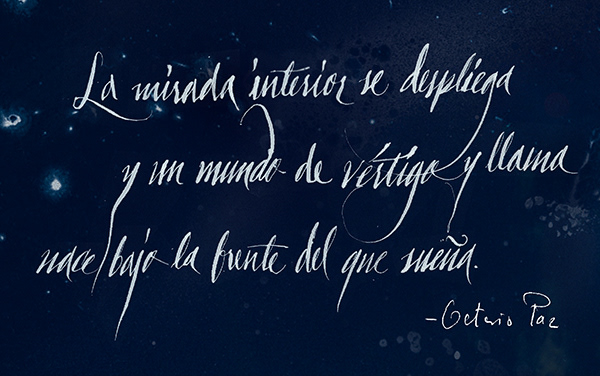 I made this Octavio Paz quote from "El Cántaro Roto" poem, for a poster that I designed for a poster exposition that I was invited to participate as part of the celebrations of his 100 birth anniversary.
Octavio Paz was a Mexican poet-diplomat and writer. For his body of work, he was awarded the 1981 Miguel de Cervantes Prize, the 1982 Neustadt International Prize for Literature and the 1990 Nobel Prize in Literature.
I just want to show some of the process of this calligraphic work by itself for one of my posters. The above sample is the final version, and the below is part of the scketching process and some details of the final one.
 I'm always feeling delighted when there's a chance to do some calligraphic research on my projects. My style is usually kind informal, I guess I have something that is mixing the nice and the display flavor, and this is a clue of what I do of this kind of projects.